About the SkyartJAPAN Boeing B777-300ER Flight Simulator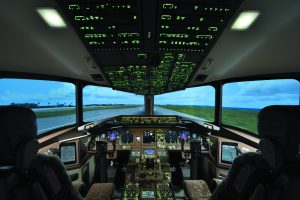 Flight Simulator of SkyArt JAPAN used '(Boeing 777-Flight Simulator device (FTD) ' the which only exsistabout 20 cars in the world.
Itis a full-sized with a real plane switches and buttons, and
it reproduces the cockpit with a same software of Boeing's.
Choose your favorite flight routes, airport data registered about 4,500 locations around the world.
Sound is directlly recorded from the Boeing B777 engine and cockpit.
In addition, the pilot instructor is well-trained, experienced, technical. Professionals are also welcomed for your training.
Though its limited seating, come along with your family and friends to enjoy flying experience. For more authentic flight experience pilot shirts are available.
Ticket purchase and reservations are required.
For reservation of Flight Simulator, click here.
Flight Simulator key features
In Skyart JAPAN, we have an authentic, various patterns flight simulator which no others contains.
Now, introduce you the high-performanced Flight Simulator which is known as use for professional's training.
---
-Use of professionals
Flight Simulator is just an entertainment, you might say. SkyArt JAPAN's Flight Simulator is different from those, that it is used for training of real pilots who are professional. You may see the same scenery as a pilot in a safety cockpit, all the component are not simplified so that you need an exact method.
---
-Real pilot sits next to you
For your support, the experienced pilot instructor will help you in the cockpit. There are many complicated method, so that beginners will find themself difficult, but it's just a piece of cake, soon you will find yourself as a real pilot!
Click here for the introduction of the pilot
---
-Flight Simulator shows just alike in the real world
SkyartJAPAN Flight Simulator installs various situation of the world weather, season and locations, it is linked to real-world and real-time. Following is mainly configurable items.
-Seasonal weather all over the world, four seasons
-Weather sunny, rain, snow, cloud is immediately and completely invisible (on flight instruments), etc.
-Time Sunrise, morning, afternoon, evening, night, etc.
-Place airports around the world, able to fly any route
– Views of each altitude 
Updates of internal data in real time. Simulator unit is also maintenanced at least once a week.
---
-Surrounded by authentic sound. Not only the visuals
Following your flight, surrounded sound will represents you the authentic situation. Also, equipment in the cockpit may sound like a real operating systems. During your flight, you are able to here the radio from aircraft control systems.
---
-Focused on landing and take off, or others of your choice
You are able to make a choice for your flight, such as only take off (take off) and landing (approach)to experience, or shortcut from high up to 35000 feet at loading the destination airport, or
an actual flight time simulation is possible (for long term flight,let us know). Switching of Autopilot (auto flight)to manual operation (manual flight) are available.
---
Flight Simulator specifications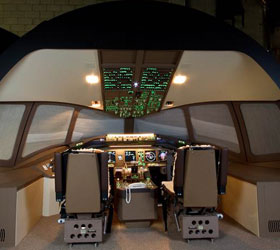 Cockpit and Interior liner
Laser cut aluminum shell
Industrial powder coat finish
The exact Interior liner set
Modular design
Polycarbonate window
Roof design tailored to the projector
Designed to accurate cockpit.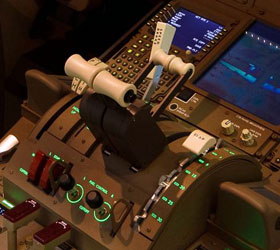 PRO-MX complete electric throttle quadrant
Custom machined components
Full electric design (SIM-avionics Aerospace Electronics)
IBL series panels (Green w/back light)
Functional TOGA / GA device
Mchined knob (character / color)
Precise trimming device. (Spring loaded Center)
Throttle and speed brake motor drive (drive type)
USB interface
V FBPT uses a finely designed 777 TQ.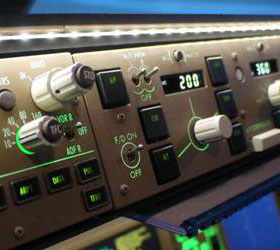 Pro-MX level of MCP and EFIS device
V & A's own IBL series panels (real aircraft bulbs)
V &A-EM1 pro level switch (Quad LEDs)
White 7-segment display
Feature bank angle selector
Solenoid-operated A/T toggle
APIs available for use with custom V & A interface

V & A PRO-MX series MCP / EFIS unit is used only in the parent project. Featuring a real and profound experience.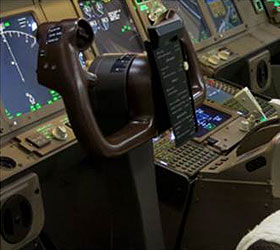 York (control column)
Custom machined components and static load reproduces close to real flying sensation.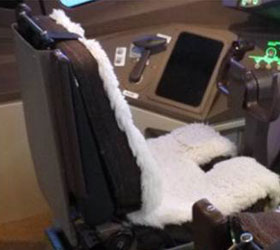 Real flight crew seats
SkyArt JAPAN Flight Simulator uses the same as the real aircraft crew's seats.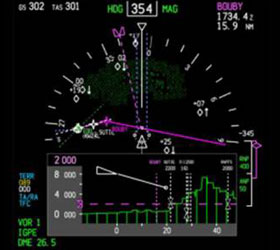 Avionics (aviation electronics)
Sim-Avionics is designed for Boeing-B777-FBPT.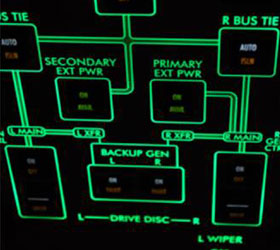 Lighting designed by SkyartJapan
Green LED device
The machining printed circuit board
Slot King Panel
DZUS compatibility
The exact 6 mm Panel
Computer matched paint
IBL (Integrated Back Lighting) series Panel, appearance and performance at a high level. Illumination over the entire Panel uses actual aircraft bulbs. Aircraft Simulator that reproduces the lighting, is only here in SkyArt JAPAN.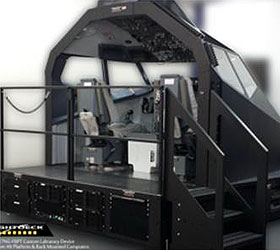 Custom element (Simulator sales)
At SkyArt Japan also sales Simulator, for an example, you can include customs below.
Instructor Instructor station
Entry stairs / ramps
Custom wheels/lift
Rack mount computer/hardware
For sale, contact us.